Why Bubble 3D?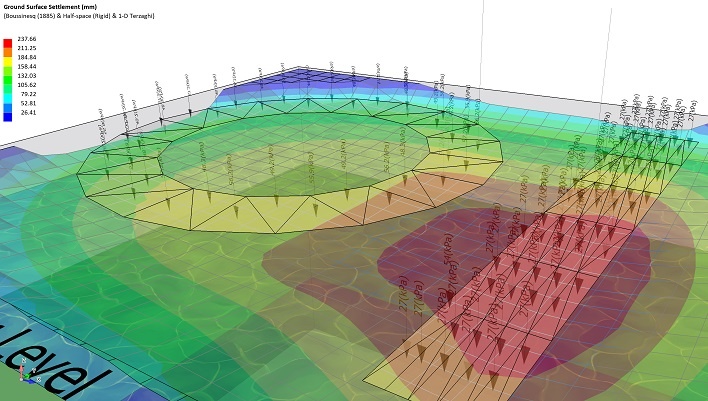 One of the first things geotechnical engineer learn in foundation engineering is "stress distribution" under the footings and/or behind retaining walls. We have all learned about "stress bulb" going to 2B or 4B, etc. How about a FREE educational software that helps you visualize the stress distribution and settlement for multiple footings, simulating overlap of the stress bulbs, ground surface settlement, and more.
Bubble 3D is a state-of-the-art freeware for visualizing foundation stress and settlement distribution! Bubble 3D comes with a complete help file (accessible from inside the program), and user's manual in PDF and eBook formats to allow you getting up-to-speed in a very short time.
Stress Analysis Methods
Bubble 3D covers the following stress and settlement analysis methods:
Boussinesq (1885), Holtz and Kavocs (1981)
Westergaard (1938)
Newmark (1935)
2:1 Method
Settlement Estimation Methods
This program covers various methods for calculation of settlement at each soil element:
Rigid (semi-infinite)
Flexible (semi-infinite)
Elasticity Theory
For more details please see Bubble 3D documentation.
Powerful 3D Engine
The 3D model created by Bubble 3D allows you to:
Zoom and rotate the model
Turn on/off different layers
Export to image, Excel and print the results
What Can You Do With Bubble 3D?
View stress distribution under the footings (i.e. stress bulbs),
Define a stress cut-off (e.g. 20% of stress below footing) for stress bulbs, in order to investigate stress influence zone,
Investigate the overlap of stress bulbs for adjacent footings,
Cut through the stress bulb at any location and in any angle,
Visualize the settlement of the ground surface,
Various type of footings are covered: pad, strip, circular, raft, ring, box, etc.
View stress distribution for all soil elements in a tabular format,
Export the results to image and Microsoft Excel formats
For Educational Purposes
Bubble 3D is designed as a tool for assisting geotechnical engineers and students to understand stress distribution in soil, especially when there are surcharge loads close to a footing. Bubble 3D does not utilize FEM or similar numerical analysis; Instead, it follows a simple philosophy:
Bubble 3D is a powerful software for both academia and consulting engineers for educational purposes. The results of the program cannot be relied upon / used for commercial projects. Download Bubble 3D today for FREE.
1000+ Consulting Companies Around the World Use Novo Tech
Our software is presented with flexible licensing in mind! You do not have to sign into expensive subscription-based contracts. Every company has different budget, licensing preference and purchasing timeline. Our flexible licensing model works based on the number of software packages, and number of licenses purchased.
Contact us today; We provide you the best licensing solution that fits your company needs and budget.
If you would like to learn more about the theoretical background of the methods used in Bubble 3D, please visit its online documentation.